About Us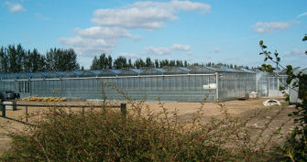 For those of you who are not familiar with our company, we were established in 1995 with the aim of consistently supplying quality plants at competitive and stable prices to the wholesale and garden centre trade.
To achieve this aim, we established the nursery on an 11.6 acre green field site. This gave us the advantage of being able to build glasshouses with high specification growing environments dedicated to modern production methods.
It is our aim that by working closely with our customers, we can provide a wide range of plants at the optimum stage for potting. This is achieved by the specific growing and scheduling of orders and deliveries to the requests of our customers. Plants can be supplied ex nursery or delivered direct to you on trolleys by our own van or by one of our dedicated hauliers. We currently deliver once a week to most parts of the U.K.
| | | |
| --- | --- | --- |
| Seed Propogation Unit | Micro Fog Unit | Transplanting Seedlings |
We specialise in offering an extensive range of hardy herbaceous perennial plants, including Penstemon and Lavender and a range of plug grown herb and vegetable plants. Our plugs are raised through our own seed propagation unit and the majority are then transplanted into either a 51 or 104 cell tray. Cutting raised varieites are produced using our specialised micro fog unit. Both methods reduce stress to the young plants, thereby providing you with a stronger, more vigorous plug plants and giving you a quality start to your crop.
| | |
| --- | --- |
| 51 Cell Trays | Individual 50mm Plug Plant |
Because we are a family run business, we are able to offer a service to suit your requirements.
If within our listings you don't find what you are looking for, then please give us a call as we are always willing to look at new or unusual lines or bespoke production of your own material whether for bulking up of new varieites or full commercial production.
We hope you enjoy visiting our website. If you would like to visit our nursery in person, please give us a call to arrange a time.
Finally, for those who have supported us over the years, thank you for your custom and for those yet to order we look forward to fulfilling your needs in the years ahead.
Kind Regards

Mike & Sue Roberts